Meetiiim, the new multitouch and collaborative workspace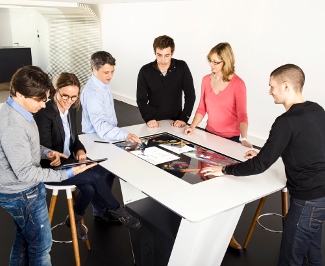 Bordeaux, 18 November 2013 – Immersion announces the official launch of Meetiiim, the collaborative multi-touch meeting table with advanced functionalities which is revolutionising professional meetings. Share, interact, annotate and modify. Your meetings really will take on another dimension with Meetiiim!
The professional environment is one in which optimisation, whether in terms of time, cost, etc., is the DNA of every company. Whilst professional meetings seem to be a crucial part of creating and maintaining cohesion, both in human and project-specific terms, unless properly managed they can quickly become a burden for employees and a real obstacle to productivity as far as the company is concerned.
A degree of thought must therefore to go into both the form and the substance of such essential meetings, which must also be able to evolve and adapt in a world where increasing mobility has become commonplace.
*2011 figure taken from the Bien Au Travail study.
** TNS Sofres study for Bruneau
Meetiiim by Immersion, or how to modernise your meetings without complicating them for greater efficiency
With Meetiiim, Immersion is tackling the difficulties created by passive meetings (one or two speakers before an 'attentive' audience), which are more often than not unproductive. In such situations, Immersion offers a solution not only for industrial sectors (automotive, aeronautics, etc.) but also others such as construction, architecture and design firms, training centres, etc.
The result of 5 years' research and industrial collaboration, Meetiiim fully encapsulates Immersion's knowledge, innovation and expertise to offer the best technologies and an exceptional user experience.
It reflects Immersion's vision and its desire to support every client in their projects by popularising the use of collaborative and immersive 3D technologies and by offering a range of increasingly innovative solutions designed to foster innovation.
"Meetiiim pushes the boundaries of interactive collaboration. It is an example of true technological prowess and we know that it will revolutionise the way meetings are designed and used to improve the associated decision-making processes", explains Immersion CEO Christophe Chartier, before adding that "revolution doesn't necessarily mean drastic changes in the way we do things. We aim to encourage interactivity, facilitate exchange and disclose and capitalise on information by drawing on well-established technological customs such as the touchscreen aspect".
More
information