Alstom Transport – Immersive 3D room
Immersion created an immersive 3D room (also known as a Virtual Reality room) for Alstom Transport, one of the four entities in the Alstom group, together with Alstom Power, Alstom Renewable Power and Alstom Grid.
Alstom Transport is a world leader in rail transport and electricity production and transmission infrastructures.
Key
features
Client: Alstom Transport
Sector: Transport
Equipment: Immersive 3D room
image wall of 6m in length by 2.5m in height
terraced seating area can accommodate 23 people.
stereoscopy
the user is tracked to ensure that they are fully immersed in a 3D environment
For what
purposes?
evaluation of all technical options and all solutions – this is known as a 'Digital Mock-Up Trend Review'
promotional tool for Alstom Transport offers: clients can visualise their future train and choose the colours, interiors and options to be applied.
innovation tool: the room also serves as a laboratory that enables them to research new functionalities and approve sector-specific applications.
Discover the video: how Alstom – global leader in transport – uses 3D immersive and collaborative solutions in its process: design, industrialisation, maintenance, innovation and presentation to clients.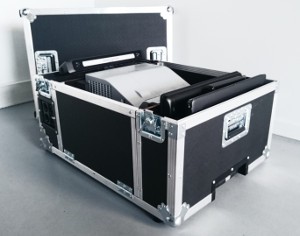 After this virtual reality center, Alstom has acquired several  "VR in a Case", all-in-one mobile solution for virtual reality, integrated in a compact flightcase. This solution allows to deploy easily and quickly an immersive system.