Bordeaux, January 2014 – Interview with Clément Jacquemart, Technical and Operational Resources Director at Vinci Construction Sud-Ouest.

The first 'inspirience the 3D – it3D' day also saw Vinci Construction presented with a Click-Share solution by Eric Braux, General Manager of Barco France, following its participation in a competition.
The presentation system is designed specifically with meeting rooms in mind and enables the user to share digital content in a single click by connecting computers, tablets or smartphones to the meeting room's visual display system using Wi-Fi.
Two months after taking ownership, Clément Jacquemart shares with us his opinions of and comments on the system.

it3D: "After just two months of using the system, can you tell us how ClickShare has been received within your company?"
Clément Jacquemart: "We already use ClickShare on a regular basis for our Executive Committee meetings. The first few times we used it, those present at the meetings were amazed by this new solution, wondering where the box was, and about the USB buttons sitting in the middle of the meeting table in particular.
Then, when a user wants to share the content they have on their computer, they're given a button rather than the usual video cable, so it's much faster. It all becomes really natural then.Technology is transparent. You very quickly forget it."

it3D: "What form does a typical meeting with ClickShare take at Vinci Construction?"
C.J.:  "An Executive Committee meeting, for example, generally involves around ten or so participants. Over the course of the meeting, five to six speakers will be called upon to present the content of their work. Using ClickShare makes it so easy to share the information on the screen. You don't need to be passing cables around any more and there are no more connectivity problems. It's instant!
We are not really using the tool to its full potential at the moment. ClickShare primarily enables us to 'switch' from one user to another very quickly. The possibility of displaying a number of sources on the same screen, however, is something that interests us with regards to comparing data, two hypotheses, etc."

it3D: "Does ClickShare offer any other benefits?"
C.J.:  "Automatic resolution adaptation. It's so transparent that you quickly forget that it's a major benefit. You no longer have to trawl through the settings on your machine to try and adjust them appropriately.
I remember attending professional meetings in which I had to give presentations where the stakes were pretty high and it sometimes took several attempts to get the right format and the right rendering on the screen.
When the pressure is on, you really don't need that! ClickShare is a great ally to have in that type of situation."


it3D: "How do you plan to develop the use of ClickShare within your line of business?"
C.J.:  "Laptops are very common in our meetings, but tablets are becoming increasingly popular. These were always previously incompatible with our projection system, but thanks to ClickShare we can now connect them and share the content stored on them.
We haven't yet chosen the ClickShare Link option, which enables you to use all of the exact same features as with a computer but from a tablet, but given the current trend, it's an option that we'll be looking at very soon."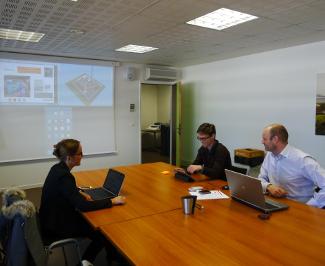 FURTHER INFORMATION
ClickShare : http://www.barco.com/clickshare