Collaboration and Virtual Reality: How does the control center of Singulair- world expert in wind turbine blade control – facilitate decision-making locally and remotely? 
Immersion has met Olivier Maffrand CEO of Singulair. Olivier welcomed us in his new premises in Bordeaux where his control centre is equipped with our technologies. This was an opportunity to have a photo session with part of the team in this control center and to tell us the story of his company, a world-renowned expert in the field of renewable energy. He gives us his vision of innovation and the uses of his immersive and interactive workspace.
Founded in 2014, and following a positioning change in 2016, Singulair is now the leader in wind turbine blade inspection. Its service offering combines drones inspection and artificial intelligence defect analysis. At the beginning of 2022, the company has inspected 11,500 wind turbines, identified 260,000 images of defects for 9 million images collected, and has covered 6,700 kilometers by drone along the inspected blades in 16 countries. Singulair is the first global player in this market.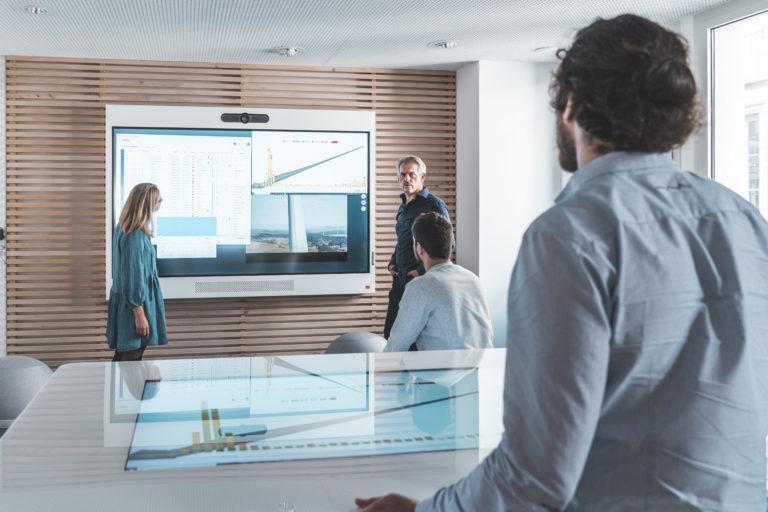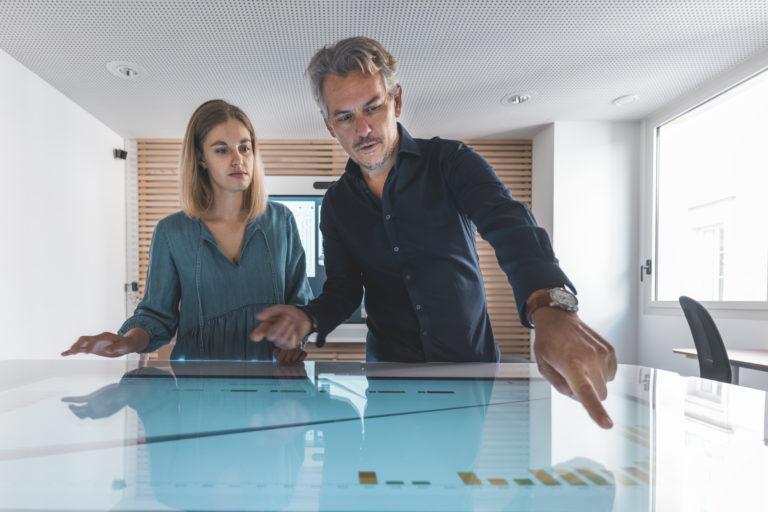 A deep interest for technology and a desire for useful innovation
A dozen employees and an entrepreneur, Olivier Maffrand, are driving Singulair forward. At Immersion, we love to know our customers, men and women, and understand what drives them, and how they move the lines.
Olivier's story started in Ivory Coast where he passed his pilot's license. "I was passionate, I was amazed", he reminds. Then he spent 4 years in the luxury industry in London: "It's a very creative industry that is marked by the requirement of quality. You have to reach excellence and anticipate customer expectations. Then he landed at Airbus where he learned and applied industrial processes and methods: "It was exciting and very instructive" These two experiences has made him someone looking for innovation and creativity, with the desire that it must be useful and used and especially solve a real problem.
He then created Immersive Solutions, a company that he had to close 8 years later: the concept turned out to be too innovative for the time and did not meet its market. Then, in 2014, he launched Singulair, a combination of his experiences and passions. Olivier has learned from all his experiences, which have brought him strong values of high standards, creativity and rigor, which he now puts at the service of his collaborators and customers.
What drives him today? " Keep inventing. I feel very comfortable when faced with a blank page, when I imagine how we can help write the future. I also like to transmit to my teams the desire to go further, innovate, invent."
One of his favorite quotes? "In training, the players do what they know. During the game, they do what they can." Marcelo Bielsa, OM coach in 2014-2015.
An immersive and interactive workspace for decision-making
Singulair calls Immersion initially to imagine its future showroom. The objective? To explain and enhance its know-how to its customers and prospects. In practice? This showroom is finally much more than a promotion tool, it has become an operations control center.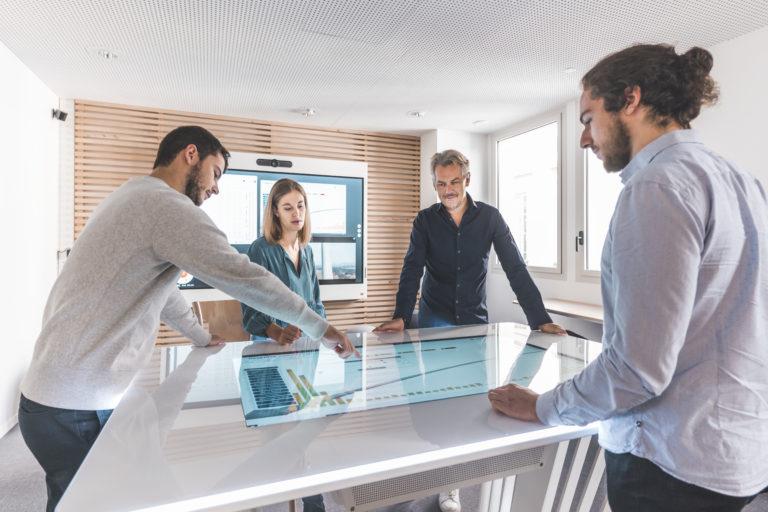 « It is a real work tool that we use very regularly, both internally and externally. »
This operations control center has:
A Meetiiim collaboration table
A large touch screen
A virtual reality (VR) headset: Varjo XR-3
The Shariiing software solution, developed by Immersion, has been installed on both table and screen and allows to connect the VR headset to them.
"When I started to imagine our showroom, I was wondering which company could accompany us to design it", says Olivier. I have chosen Immersion is for its expertise, its vision of the future work and its company culture. It is a human-sized company. Christophe Chartier, its CEO, embodies well the reasoned innovation, an incremental innovation. He succeeds in the difficult challenge of offering solutions that are both useful and inspiring. His multidisciplinary experts are endowed with know-how and interpersonal skills that, combined, make a real difference. It is a pleasure to discuss one's project with the teams to co-create it together. It's a human factors approach that works."
Multiple uses, a single objective: making decisions
Internally, Olivier and his team use this immersive and interactive workspace for their brainstorming meetings. With Shariiing and its whiteboard features – the ability to add any type of content, notes and annotations – they imagine the Singulair roadmap and organize their strategic internal meetings. "We have a traditional meeting room without Shariiing, but we rarely use it," he says.
With its customers, Singulair uses its control center for remote defect reviews. Explanations. When a defect is found on a wind turbine and an expertise on a new situation is needed, Singulair calls remote experts who may be in Italy, the USA or Mexico and they connect via Shariiing. They use their business software in Shariiing, videos and PDFs to share expertise, discuss and find the best solution collectively.
Finally, Olivier tells us about a new use – and one that will undoubtedly be repeated – for crisis management. "Recently, we also experienced a crisis management with Shariiing. A major disaster occurred following a storm. We had to react quickly. We organized a three-way collaborative session with the wind turbine manufacturer in Germany, our experts in Bordeaux and the drone pilot on site who streamed what he saw. All remotely connected in Shariiing, we distributed the video stream captured by the drone and shared the information that everyone had to make it accessible to everyone. This allowed us to have a global view of the situation to understand the genesis of the incident, assess the HSE risks, and then make the right decisions," he explains.
"We also have a second Meetiiim table that the development team uses to test our prototypes and that also accompanies us to trade shows," Olivier adds.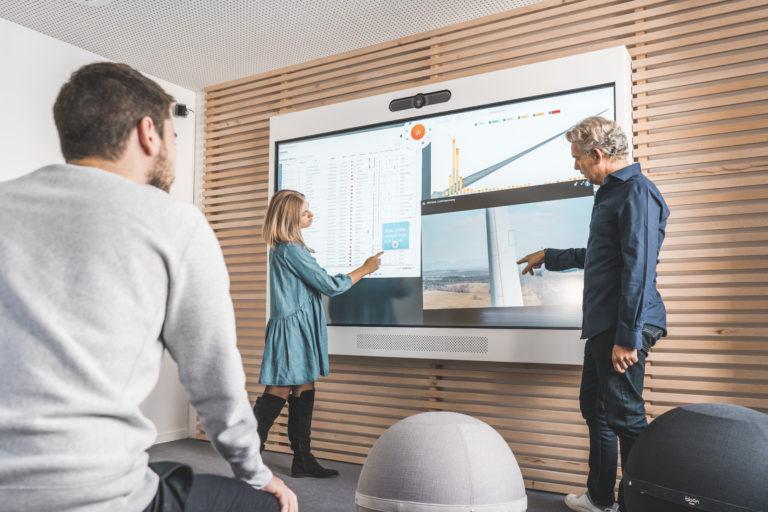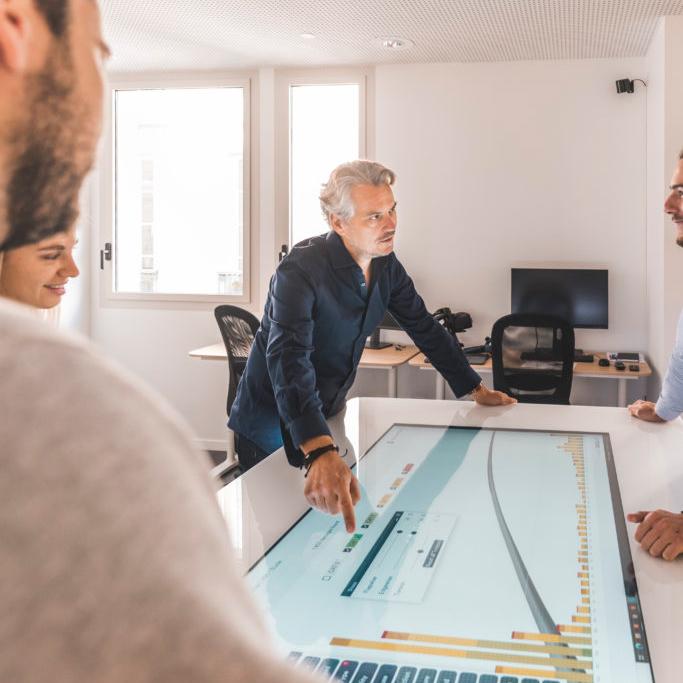 A useful and differentiating work tool that makes a difference
The Meetiiim table is a very beautiful tool, especially with its futuristic lighting on the edge," explains Olivier. At trade shows, it generates valuable traffic and visitors remember it. Our operations control center is good for our company, for our image and for our know-how. It immediately positions our company as innovative and we can immediately demonstrate the way we work. It succeeds in both marveling, making people dream and being useful at the same time."
"Internally, all the collaborators have appropriated the tool and are creating their own meeting," he continues. It's a work tool that is both fun and helps build confidence. Standing in front of the screen and in front of the table, employees are making more dynamic and scripted presentations. This immersive and interactive workspace offers us a much greater collaboration with the client, who is also more involved.
"It creates an undeniable "wow" effect," concludes Olivier.
What about virtual reality?
Olivier and his team are currently experimenting with virtual reality. "As we did eighteen months ago with our Meetiiim collaboration tables, we are writing the future of our use of virtual reality. We now have a database of 260,000 defects. We now want to do predictive analysis by crossing this data with external data, such as the weather for example. The uses would include predictive maintenance and understanding wear phenomena. We imagine a digital twin and digital mock-ups as a new means of collaboration with our customers to present information differently and facilitate understanding. These will be new decision support tools for our customers," he enthuses.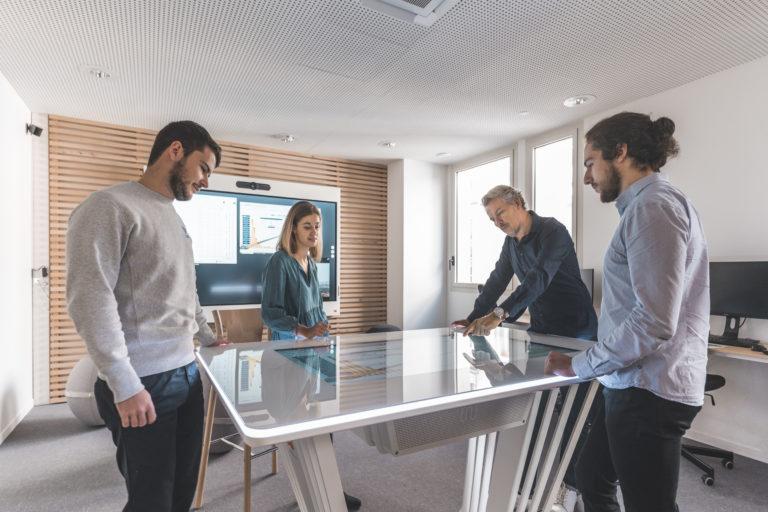 Singulair, towards the digital model and beyond
"Shariiing is an integral part of our processes. This solution has been validated and we use it daily. We have created a digital loop. This digital loop is composed of our solutions – inspection of wind turbine blades by drone and analysis of defects by artificial intelligence – and Immersion technologies. Thanks to it, we gather all the experts around the data to make decisions. This digital loop makes us efficient and reactive. It is a real competitive edge in our market."
Like the players in the aeronautics industry that he knows well, Olivier Maffrand now wants to focus Singulair's development on digital mock-ups to use this concept in his process and thus offer new services to his customers: "All the work we've done so far is now paving the way for digital mock-ups. The digital mock-up will allow us to precisely and continuously document the wind turbine blade. Design offices are very interested in this data to know the premature wear of the blades or their behavior in case of bad weather.
As you can understand, Singulair's ambition is to keep innovating to maintain its position as world leader in wind turbine blade control. Olivier's vision for creative but useful innovation will definitely guide this goal.