The latest Cash Investigation programme, broadcast this Thursday 13 January at 9.10 pm on France 2, deals with medical deserts and the difficulty of access to care on our territory.
There is no mention of immersive or interactive technologies. So, you will tell us, what is the relation with Immersion's activity? Nothing. Or at least, not directly. Let's go back and explain.
Shooting history
At the end of 2019, a team of journalists from France 2 contacted us to come and shoot a documentary, requiring data visualization solutions, in our showroom. They were looking for a place with large touch surfaces and intuitive interactions to visualise the complex health data they had compiled.
A few months later, after a first scouting, they confirmed their wish to come and shoot in our showroom, and we opened the doors to them. And it is only more than a year later that you can discover the result in pictures in the Cash Investigation programme, available in replay.
Beyond technology
Our showroom reflects the solutions we offer our customers and our know-how. A clever mix of interior design and technological integration. It is this cocktail that appealed to the journalists from France 2 and, more generally, to all our customers.
Technology is not an end in itself and for many years we have integrated design – interaction design (UI) and experience design (UX) – into our work. We are used to saying that the experience does not start when you are in front of a touch screen or when you put a virtual reality headset on your head. No, it has to start as soon as you walk in the door.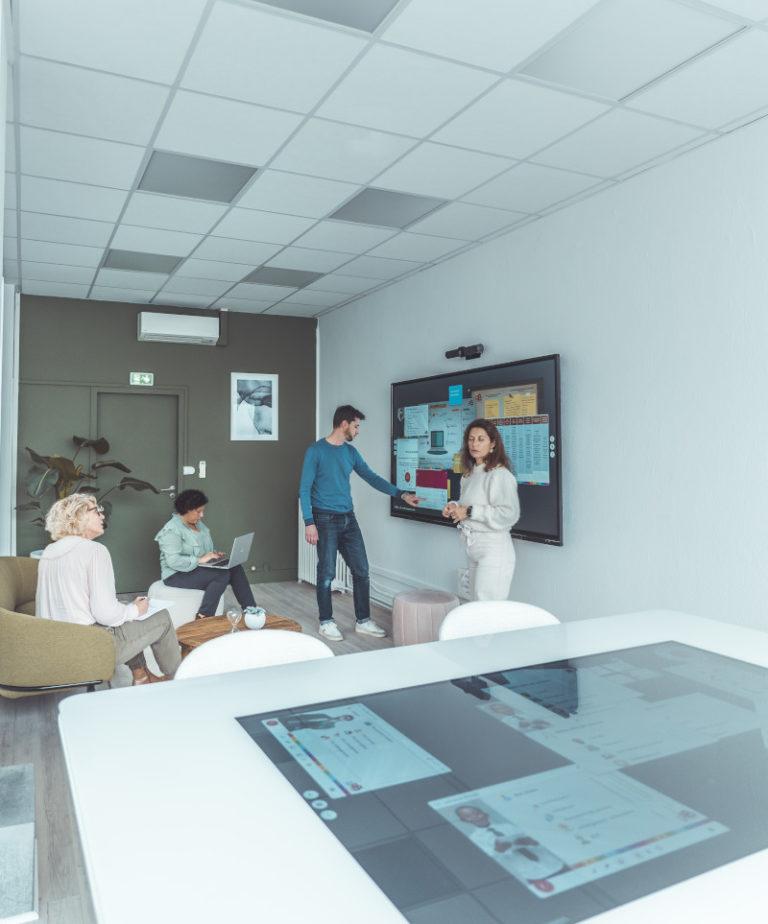 Our job, designer of immersive and interactive workspaces
The issues we deal with are varied. From industrial uses, with the creation of experiential laboratories for product design, to more corporate uses, with the creation of creativity spaces; including the creation of control rooms, concurrent engineering spaces or data visualization centres, as illustrated in this case.
For each project, we work hand in hand with our clients to propose layouts and atmospheres that reflect their image, where technology is sublimated, while knowing how to make itself forgotten for the benefit of use and users. A quest for intense emotions at the heart of human-centred design, to propose places that do not leave anyone indifferent.
Beyond the subject, we invite you to discover this Cash Investigation programme, which highlights the ability of our solutions to visualise and better understand complex data, and thus better enable viewers to understand them.