Immersion met Sylvain Figerou, creator of Iris & Octave. He welcomes us in his newly opened store in Bordeaux. Sylvain tells us the story of Iris & Octave, this innovative optical and hearing concept store. Iris & Octave is a hybrid place that questions our senses in the Retail 4.0 era. At the crossroads between a traditional optical and hearing store, a museum of science and discovery and a Fab-Lab. To give life to this project, Sylvain has notably equipped it with Immersion technologies. Shariiing, collaboration and presentation software, and Reviiiew, a Mixed Reality application. Portrait of a passionate, demanding and ambitious man.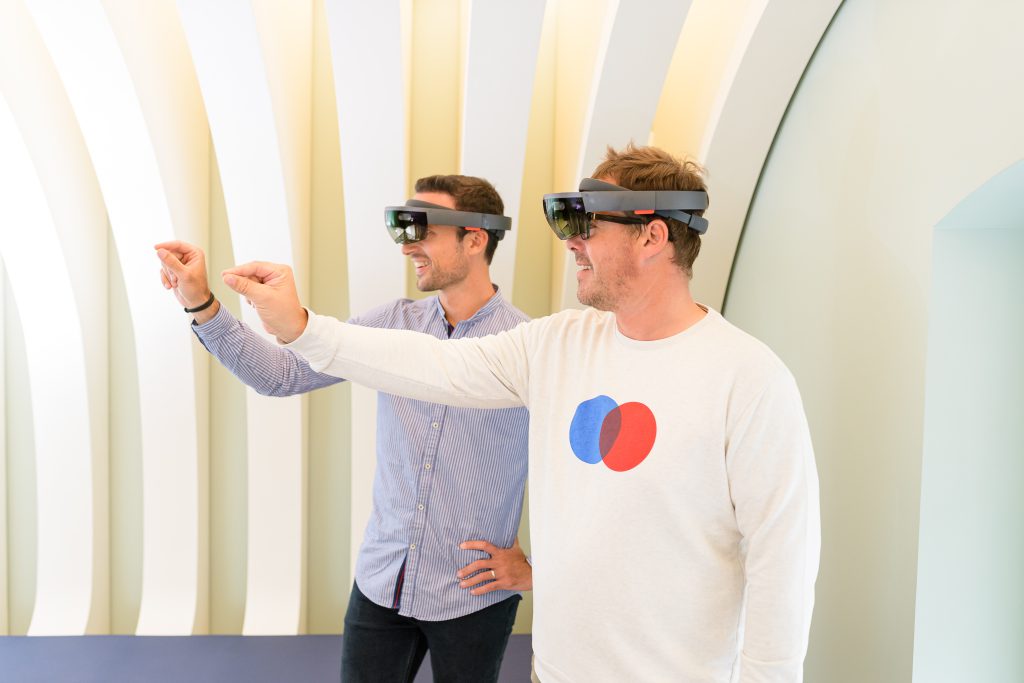 GOING AROUND THE WORLD OR REVOLUTIONIZING OPTICAL STORES?
Falling by chance in the optical business, Sylvain Figerou finally fell in love with it. He stayed there out of passion. Iris & Octave is the story of a store like no other, a crazy bet. Sylvain had this idea in mind for many years. His friend, and now his artistic director, Eddy, is the one who pushes him to finally take the plunge. Having just sold his twelve optical stores, Sylvain is well on his way to putting his plans into action. Which ones? Sailing around the world with his wife and four children. But that was without counting his friend's power of persuasion and the passion for his profession that drives him. So, Sylvain postponed his trip and embarked on the adventure. In autumn 2019, Iris & Octave opened its doors in Bordeaux.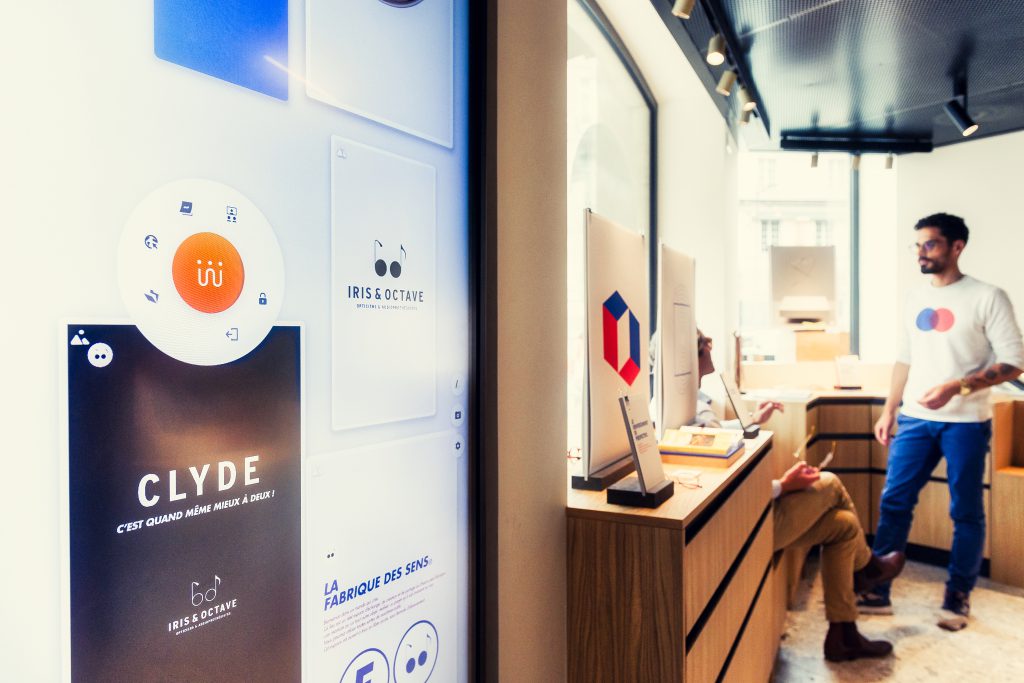 "NOTHING EVER HAPPENS IN AN OPTICAL STORE"
When we asked why he created Iris & Octave, Sylvain Figerou replies, disillusioned: "Nothing ever happens in an optics store". He adds, "What I like about my job is to take the time with customers, to advise them. I also like to teach them new things and make them discover new ones for themselves, to question their senses, to marvel at them. All this, in a traditional optical and hearing store, doesn't exist! So, I imagined it and then realized it. »Sylvain has always had a curious and interested eye for new technologies. Throughout his career, he has tirelessly sought to bring more than just optical services to his stores. By creating Iris & Octave, his ambition has been pushed to its paroxysm. He wanted to improve accessibility to information on vision and hearing disorders through new technologies, notably with  Shariiing and Reviiiew by Immersion. How did he do it? By making the customer experience exciting again through sensory and playful experiences and a fab-lab. The client is no longer just a customer, he becomes an actor of his experience.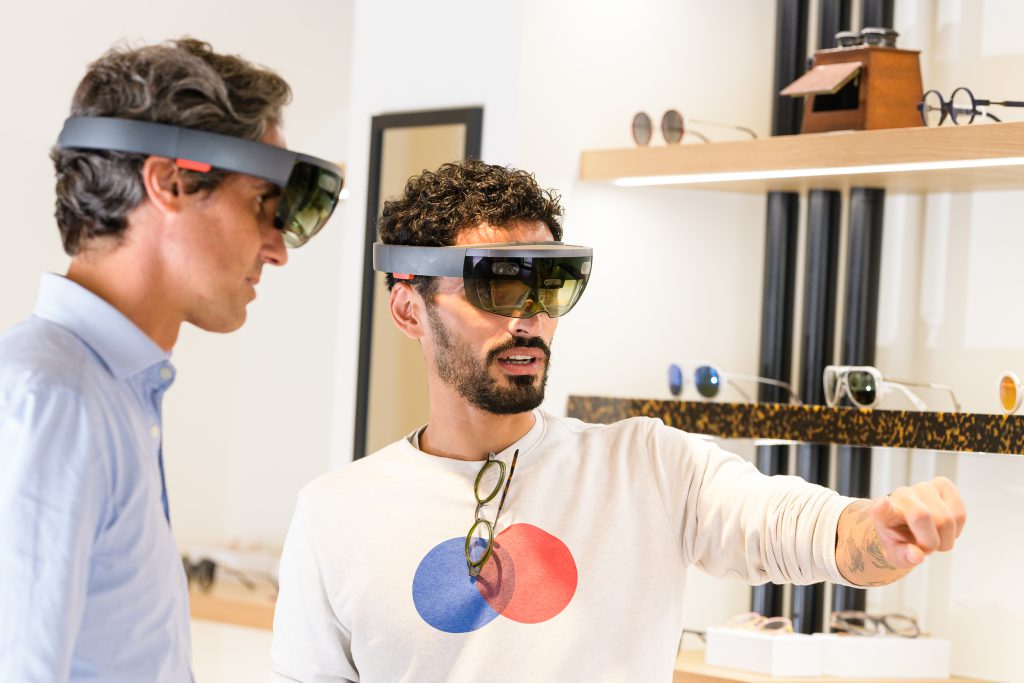 THE POWER OF THE SENSES REVEALED BY TECHNOLOGY
Located on three levels in the heart of Bordeaux, Iris & Octave has several spaces. Of course, the traditional optical and hearing sales areas and other examination rooms can be found there. But let's take a look at the spaces that give this concept store its unique character.On the ground floor, close to the entrance of the shop, a very large Shariiing touch screen has been installed by Immersion. It displays dynamic digital content. The customer then touches with his finger that he is not in a shop like the others. He takes possession of photos and videos of frames, optical illusions. He browses the accounts of the brand's social networks. Note that thanks to Shariiing all this data can be moved, duplicated, annotated, captured, …Still on the ground floor, the client can also play with experiments to understand the phenomena of myopia and astigmatism. Those in a hurry can simply and solely choose their new frame.
In the basement is the Fab-Lab "La fabrique des sens", where you can make your own glasses. Nearby, children will be amazed by a space entirely dedicated to them. There are adapted glasses, experiments and books on the senses, in partnership with the Librairie Mollat, an famous institution in Bordeaux.On the first and last floor, the client can enjoy a sound shower or a hearing rehabilitation chair. He will also examine the latest exhibition of optical illusions and even holograms! This is where mixed reality experiences take place. To perceive these holograms, all you have to do is put on some special "glasses". They are in fact autonomous Microsoft HoloLens headsets. Without being cut off from the real world, the customer and the optician simultaneously discover an eye that is displayed in front of them, thanks to holography. The optician details the different parts of the eye and explains the patient's condition using Reviiiew. Application developed by Immersion, Reviiiew allows access to a gallery of 3D models. The optician displays and interacts with these holograms in collaborative mode with his client: he moves them, changes their orientation, … The audioprosthetist also uses mixed reality and makes an ear appear as a hologram. This experience is educational and fun, and encourages visualization, discussion and understanding of vision and hearing disorders.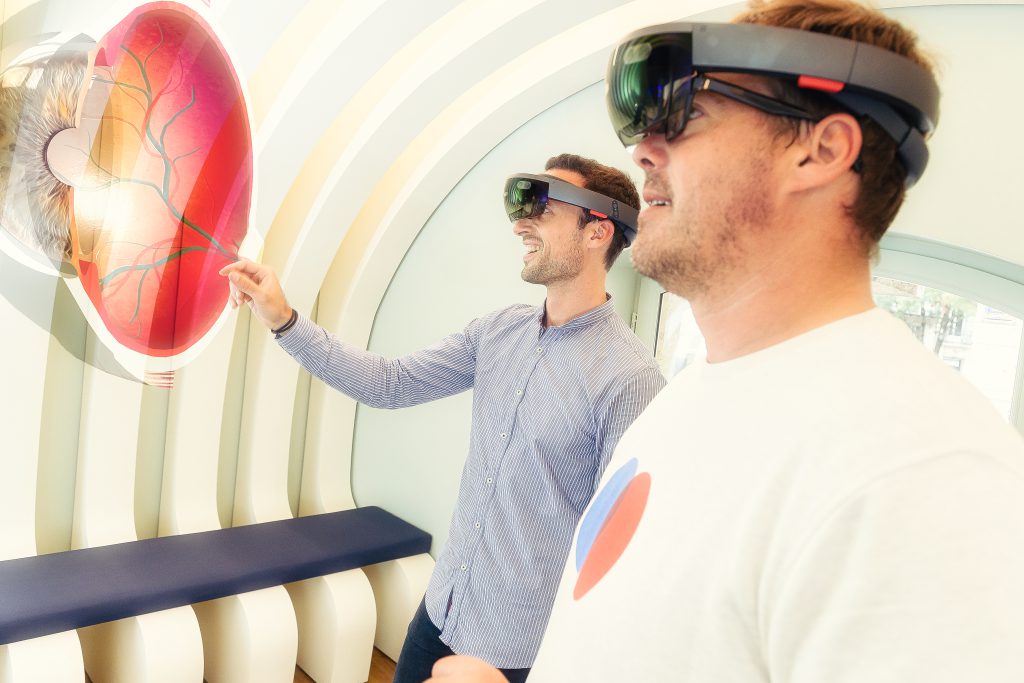 A SURPRISE AND ENTHUSIASTIC CLIENTELE
"Customers are pleasantly surprised, the wahou effect of Immersion's technological experiences is undeniable. Their playfulness too. They also appreciate the overall aesthetics of the store and the quality of the sensory experiences. They are also very impressed by the possibility to make their own glasses in the Fab-Lab starting at 35€", estimates Sylvain Figerou. "With the technologies of Immersion, Reviiiew and Shariiing, our store becomes playful and different. We create a special relationship with our customers, centered on the Human and his senses. They come to live a human and sensory experience that they won't find elsewhere", confides Sylvain Figerou.People who come in the store don't expect to discover this multiplicity of services and experiences. "Like any new kind of place, it needs to be talked about and explained. We've launched a poster campaign in town and are present on social networks such as Instagram. We want to reach out to a wider community, explain our concept and attract people who are curious, in the good sense of the word, to the store. ", explains Sylvain Figerou.With 9 employees and a few months of existence for his boutique, Sylvain Figerou is already looking further ahead and is thinking of franchising the Iris & Octave concept.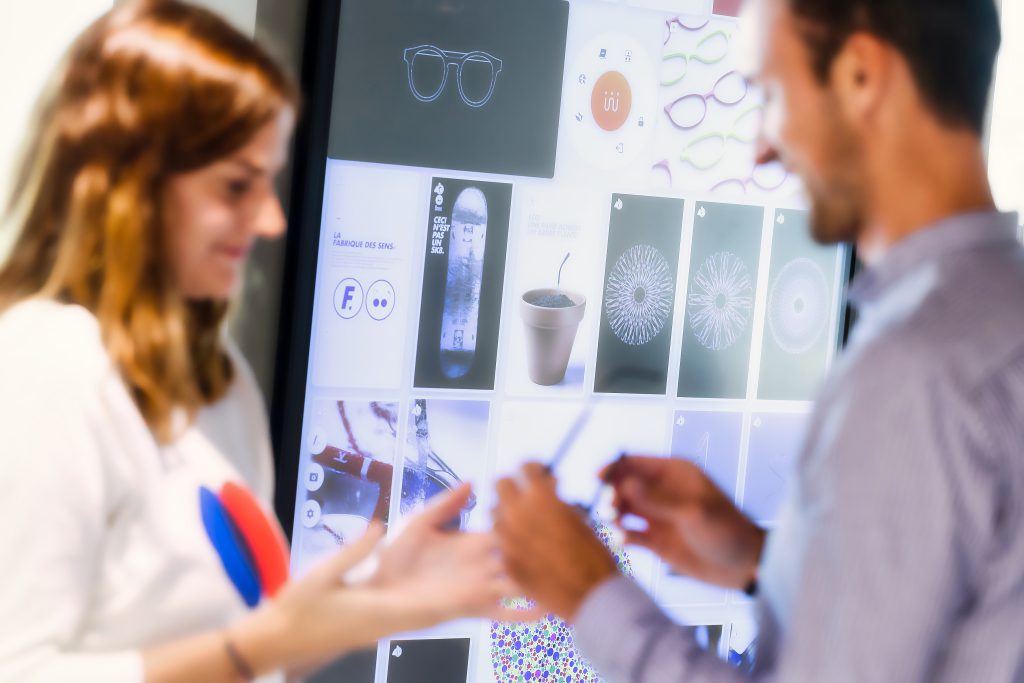 A project?
Contact us!
By Phone:
By e-mail: