Create a collaborative workspace. Supporting the evolution of its processes. How did the Bordeaux-Gironde Chamber of Commerce and Industry gain in agility by creating its own Innovation Lab for its internal teams and the entrepreneurs it supports? Meeting with Elsa Leleu, Marketing & Customer Relations Manager of the Bordeaux-Gironde Chamber of Commerce and Industry, who is in charge of the project.
Meet at the famous Place de la Bourse in Bordeaux. Passers-by stirred on the Bordeaux cobblestones. Their footsteps resound in rhythm. The joyful shouts of excited children who have come to play near the water mirror exult. This is where the Bordeaux-Gironde Chamber of Commerce and Industry is located. The mission of this public institution is to support the growth, competitiveness and performance of companies in its territory. But also to defend the interests of the 100,570 entrepreneurs of the Gironde.
We take you to meet Elsa Leleu, Marketing & Customer Relations Manager of the Bordeaux-Gironde Chamber of Commerce. Elsa has led the Innovation Lab project set up by Immersion and equipped with Shariiing collaborative solutions. She comes back with us on the challenges of this project and her approach and gives us her feedback. Testimony.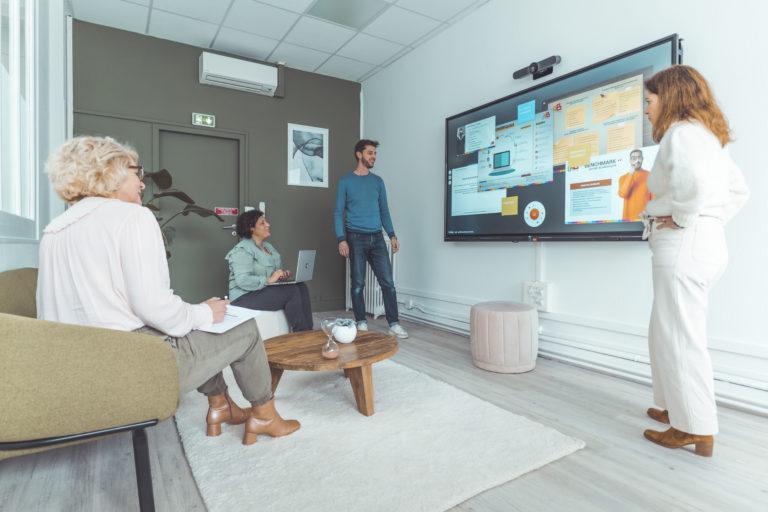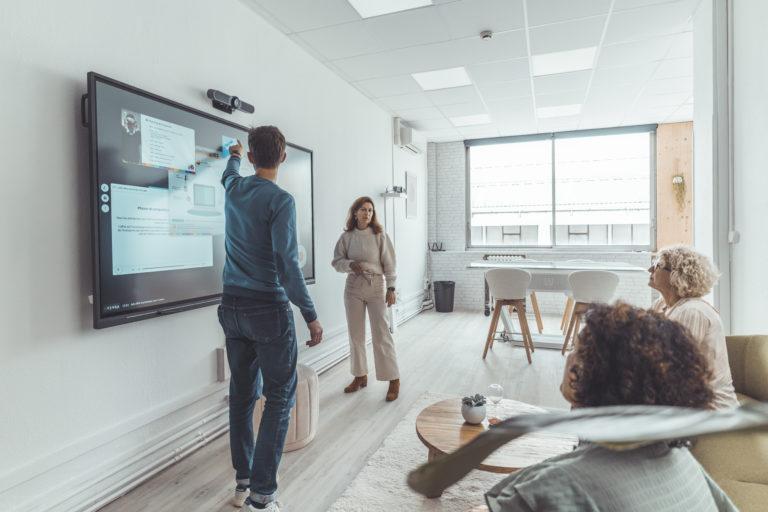 The curiosity and the concretization of innovative projects as a compass
Advising companies. Accompanying industrialists. Leading a team that informs entrepreneurs. This is the mission that Elsa fulfilled in Rouen for almost 10 years in a CCI. Then, back to Bordeaux, her home town. There, she held the same position of customer relations manager. Then she accepted the challenge of a new function, marketing. The CCI Bordeaux-Gironde now has a range of commercial services. So the idea of going further in the capacity to be innovative and differentiating was born. The Innovation Lab at the Bordeaux-Gironde Chamber of Commerce and Industry was born.
"What motivates me is to lead teams towards change. I have always been on the lookout for what is being done, for new trends. I like to put into practice the approaches that appeal to me. From A to Z. Giving life to a brand new project", explains Elsa. And we want to believe her. The proof, the creation of an Innovation Lab within a CCI is a first.
"I have a great team. They all have the soul of explorers and are not afraid to question themselves. They are curious and like change", she enthuses. This is the ideal state of mind for this ambitious project.
An Innovation Lab: the place to experience our new approach at first hand
Thinking differently about the design of service offerings. Questioning customers. Adopt a user-centred vision. In September 2020, the Bordeaux-Gironde Chamber of Commerce and Industry decided to innovate in its processes and bring more to its clients, the entrepreneurs and business creators.
"We have created multidisciplinary teams from several departments of the CCI. We trained in design thinking. But, in order to achieve this ambition, we needed a place to put the approach into practice. A place that embodied the concept. We needed a workspace that would encourage creativity, collective intelligence and collaboration. We had to be able to touch this very new and very operational approach", recalls Elsa.
A space designed to encourage collaboration
A Meetiiim collaborative table. A large touch screen with Shariiing. A space designed with care and attention to detail. These are the ingredients of the tailor-made recipe of the Innovation Lab of the CCI Bordeaux-Gironde.
This Lab is composed of three complementary spaces. On entering, there is a space dedicated to working in sub-groups, which can accommodate 20 people. Then there is a space for collaboration around the Meetiiim table with the possibility of connecting for remote sessions. Finally, the presentation space with the touch screen equipped with Shariiing facing a sofa.
"In the beginning, we naturally went for the large vertical screen for our presentations. Now, we use it as much as the Meetiiim collaborative table, which is a real meeting and co-construction place", says Elsa.
"Our Innovation Lab is designed to address both our internal and external audiences," says Elsa, "Internally, we run brainstorming workshops and project reviews where everyone can easily contribute. To date, more than 50 employees have participated in one or more workshops. In concrete terms, the Innovation Lab is used internally for: the design of new service offers and the modification of current offers, projects and the resolution of internal problems. No service offer is designed without going through the Lab."
"Externally, we want to assist project leaders. They will benefit from a complete support: our new methodology, Shariiing presentation and collaboration technologies and a space fitted out by Immersion, a showcase favouring creativity. We will also be able to rent this workspace to companies", presents Elsa.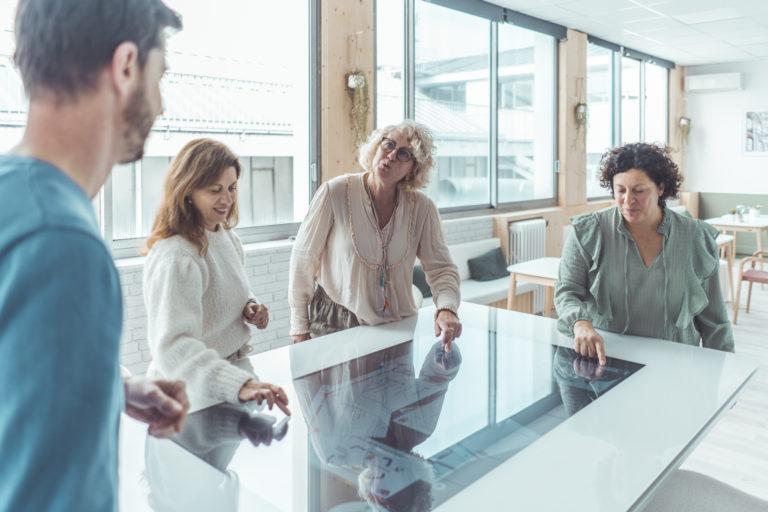 Surprising and unifying
"We did a great job", smiles Elsa. "The layout of the space as it has been imagined and realized is a real asset. The wow effect is guaranteed. People are surprised. You wouldn't expect to find a place like this in an 18th century building. The participants find our Innovation Lab pleasant, zen, beautiful. They love it!" says Elsa.
"Before the creation of the Lab, our approach was seen as a simple working group. Today, thanks to this place, we can see a real change: it's much more federative, there's more bonding within the teams of the CCI. The participants are happy to be there, it's rewarding for them. Sometimes you can even see a little healthy rivalry emerging internally because they want to use the Lab so much. The combination of "space planning + technology" adds salt to our workshops!" Elsa is delighted.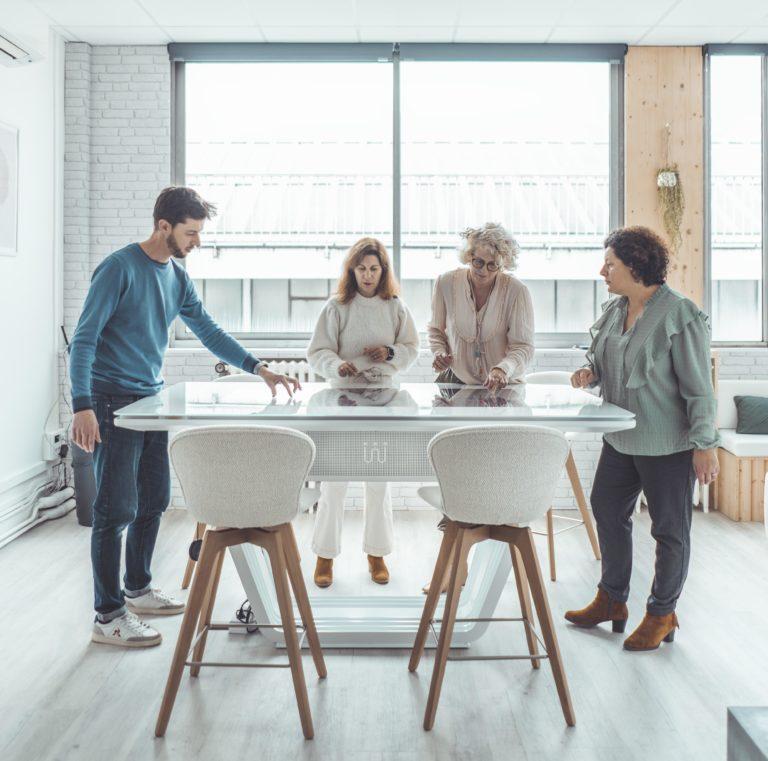 The need to be well supported
"What we liked most with Immersion is the opportunity to have a single contact for the whole project: the space planning and the integration of new technologies", says Elsa. "It is a company that is both an expert in the field and recognized, but also on a human scale. We didn't feel like we were just another project. We appreciated the customer experience and the time given to make this process a success.
Concerning the technological part, we were able to make several experiments, tests and demonstrations of Shariiing in the Immersion showroom with the different stakeholders of the project, including the IT department. This was decisive. We could all see the difference with other solutions, the potential of Shariiing and the field of possibilities it offered. It was really the answer to our need.
As for the space design, I was immediately seduced by the proposals made by Immersion, which had well understood the spirit we wanted to give to our future Lab. The company then coordinated everything from A to Z.
Finally, once the Innovation Lab was finished, we also benefited from a support from Immersion with an expert in human factors and cognitive sciences. This allowed us to take in hand Shariiing and all its potential and to train the internal teams. Moreover, this approach corresponded in every way to our new methodology.
It was really comfortable to be able to lean on a single expert partner whom we could trust for the whole project", concludes Elsa.
"Today, it is the only Innovation Lab to combine methodology and physical space within the CCI network, and we are very proud of it," says Elsa. "We are now looking forward to opening our Innovation Lab to our clients so that they can benefit from our differentiating support."
Bonus: a word from the expert
"The main challenge of this space design was the space itself. It was sharp, U-shaped with a lot of pipes and cable ducts. They had to be hidden without losing any space. The aim? To make this space very warm while integrating technologies that might otherwise seem cold. A place for work and creativity where you feel good. A timeless cocoon. To achieve this, I used light wood for the luminosity and soft colours like powder pink and green.
What I liked about this space planning project? The complexity in finding good ideas to meet the challenges. Elsa's kindness, present and caring."
Ludivine, Designer UI/UX