Research project : I-Swarm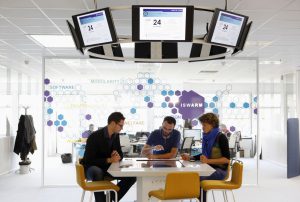 I-Swarm "Innovation Software Welfare Agility Responsibility Modularity" is a research project supported by the Aquitaine region. This experimental laboratory aims at experimenting innovative design concepts of workspace that can be implemented in the factories of the future. These are the teams of Thales Avionics Software Development, in Haillan, who have invested in this area and are working there every day.
The "I-Swarm" project helps exploring new ways to collaborate within a service through new technologies and working methods permitted by digital technology. The project has three main points to innovation which are the spatial planning & new spaces creation, deployment of new work processes & communication and involvement of applications.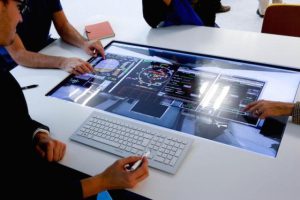 Missions
For this project, Immersion has proposed interactive technological solutions (Meetiiim, collaborative touch table) to consolidate, develop and generate different information necessary for decision making during a meeting and to better involve stakeholders. The system is now deployed in the middle of the Thales team workspace, in relation with the information system and workstations to better connect the various spaces and users between them.
Information sheet
Duration : 2 years
Start : 2013
Funding : Région Aquitaine
Partners